Roll over image to zoom in
Click to open expanded view
Ultrasonic shovel machine Ultrasonic ion shovel machine Rechargeable cleansing instrument rejuvenation beauty instrument
₹2,094.00
Compare
Description
specification:
Input: 100-240VAC, 50-60Hz
Output: 5.5 VDC 500mA
Charging voltage: 5.5 V / 500mA
Battery: 3.7V / 1000mAH
Maximum power: 1.2 W (+ -10%)
Charging time: 3 hours
Continuous use time: 2 hours
Material: ABS + stainless steel cleaning head
Features:
1. 28,000 vibrations per second
Nutritional import
3. Detox export
4. High quality steel detector

Features:
1. Effectively penetrate deep pores and thoroughly cleanse the skin.
2. The scraper probe will penetrate deep into the skin to remove dirt and aging skin.
3. Acoustic vibration makes the special beauty liquid thin and atomized.
4. Blocking cosmetic residue and pores sweat emulsion can remove splash water.
5. Eliminate wrinkles and sagging skin.
Since it is a rechargeable skin scrubber with a lithium battery, you can use it after charging without connecting.
The package includes:
1x facial scubber device
1 power adapter
1x user manual
Retail box packaging for gifts and home use.
28000 Vibration Per Seconds
Off two power-changing slices pieces, it can produce up to 28000 times of beauty import & export, effectively help to solve the skin problems and beauty up.
Nutrition Import
By 28000 times per second microseism, it makes VC, collagen and other large molecular decompose and refine, easy to absorb, enhance the natural permeability of cosmetic ingredients, allowing to import the diet Much better.
,
Detoxification Export
Through 28000 times per second microseism, it makes skin, pores in the black dirt easily decompose, refine and export. It makes a warm feeking of massage, and speeds up blood circulation and detoxification.
Superior steel Detector
The spade shape detector is made of corrosion resistance, high temperature resistance of the top 304 stainless steel. It has a higher stability, durability than a coating for human health and enjoy a lot of stable output, which ensure more safe use.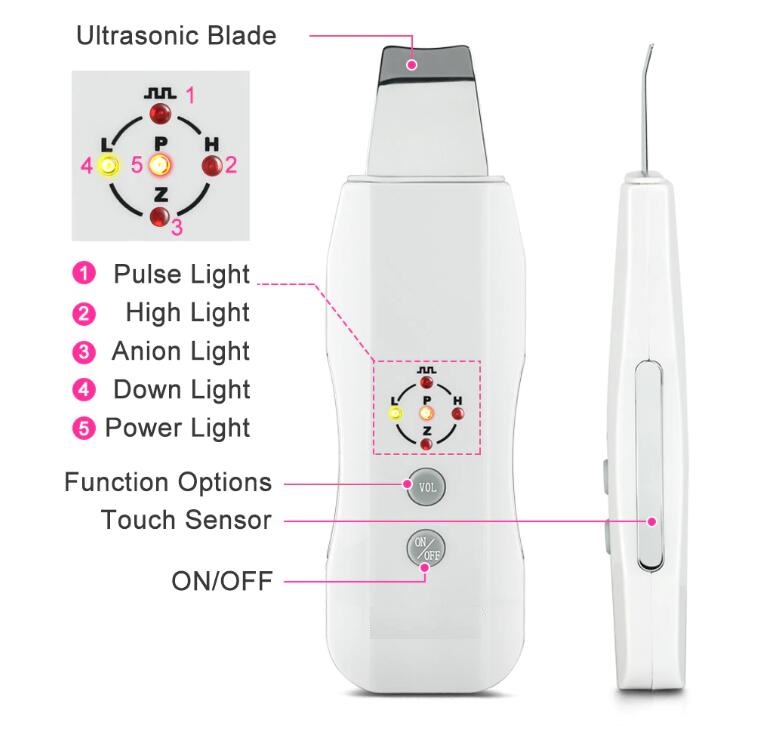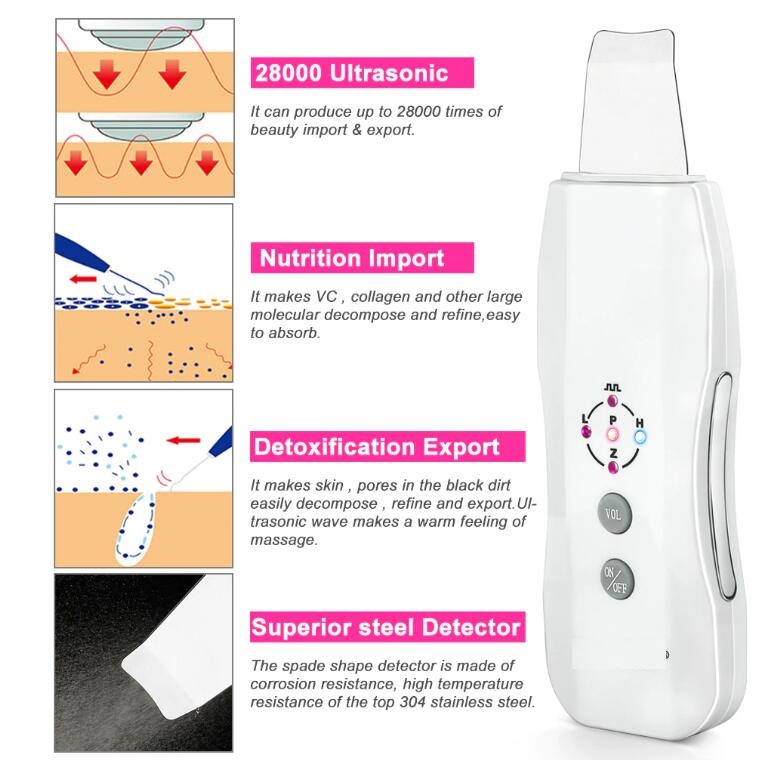 1. Clean face with face cleaner and use warm water-dipped towel or facial steamer to open pores.
2. Adjust to "L" or "H" mode to clean skin. Please contact target skin area to make 45 ° (pictured)
3. Adjust to "Z" mode to lead in skin care product nutrition. Please contact target skin area to form 45 ° (shown in picture)
4. Adjust to "
" mode to pull and lift skin.
Specification
Additional information
| | |
| --- | --- |
| Weight | 500.0 kg |
| Size | 17X6X2CM |
| Model | US |
Discussion (0)
Share your thoughts!
Let us know what you think...
Only logged in customers who have purchased this product may leave a review. Log in now